Have you suffered injuries or property damage from a crane accident? Cranes perform highly specialized, precise work, and when not done properly, where every detail is carefully considered, they can cause serious damage. Our New York crane accident lawyer understands what you are facing in this type of accident, and we will work hard to ensure your needs are always met as you seek to recover your damages.
Working with a highly experienced New York construction accident lawyer is one of the most important strategies you can take to minimize the risks you face as you try to get fair compensation for the losses you have incurred. We encourage you to contact The Weinstein Law Group to learn how we can help and support you throughout this legal process.
Request a free consultation with our New York crane accident lawyer now by calling (212) 741-3800.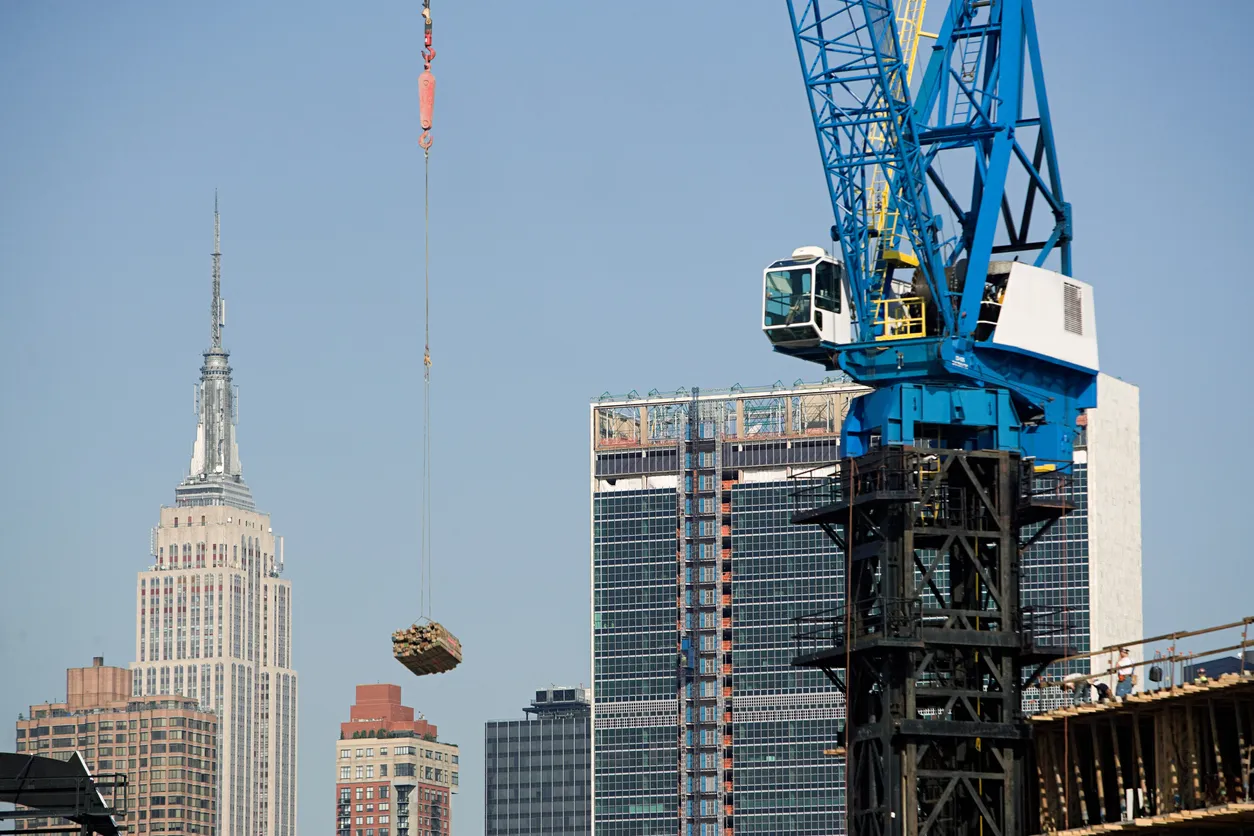 Why do crane accidents happen?
There are numerous reasons crane accidents happen, and when they do, they carry the risk of serious injury in nearly all cases. Some of the most common causes of crane accidents in New York include:
Improper use of the crane outside of the scope of the manufacturer's design or configuration allowances
Improper crane setup
Inexperience using the crane
Poor weather conditions
Improper crane selection for the tasks at hand
Falling debris from the crane due to improper securing
Crane or boon coming into contact with energized power lines
Poor worker training and safety strategies in place
No matter what caused the crane injury, it is essential to seek out the legal support of our New York crane accident attorney if you've been injured. We work with workers, people passing by, vehicle drivers who suffer accidents, and any other who suffers loss as a result of a crane accident.
How much does it cost to hire a crane accident lawyer in New York?
If you suffered an accident resulting in injuries or property loss, hiring a New York construction accident lawyer is a critical step in protecting your future. The cost of hiring a crane accident lawyer in New York is dependent on multiple factors, including the type of case and its complexity.
However, when you contact our New York City crane accident attorneys at The Weinstein Law Group, we don't charge you for our legal services upfront. Rather, we operate on a contingency fee, which means you only pay us when we win your case for you.
This starts with a free consultation. Meet with us now to discuss your case and determine how our New York City crane accident lawyer can help you navigate your legal options after a construction accident. We can provide you with specific cost information based on the specifics of your case when you give us a call.
What are the different types of crane accidents?
Crane accidents can be simple mistakes or complicated equipment failures. Because of the work they do, these types of crane accidents can often lead to devastating losses for victims. The following are some of the types of accidents our New York crane accident lawyer has helped clients navigate.
Issues with the boom
One of the most common problems with cranes is issues with the boom. If the boom strikes an object, such as electrical lines that are energized, that can cause a significant risk for anyone nearby. Many times, this is caused by human error in the management and use of the crane.
Overturn
There are situations where the crane may not be properly loaded, set up, and stabilized. When this happens, it can cause the crane to overturn. The weight and overall size of the crane can lead to significant injuries in this case, often causing a person to suffer numerous consequences and life-threatening injuries if that crane falls onto them.
Lost load
Failure to properly strap the load in place, worn or damaged straps, or human error can also lead to a lost load. If a crane is picking up a heavy piece of equipment to position on the roof of a building, dropping the load could mean catastrophic damage to anyone nearby from the cargo, debris, and the actual device falling.
Our New York crane accident lawyer is a trusted, experienced professional. We understand fully that any of these types of injuries can cause significant loss of life and injury. We don't recommend that you go to court or settle these types of claims without the help of a highly skilled attorney by your side.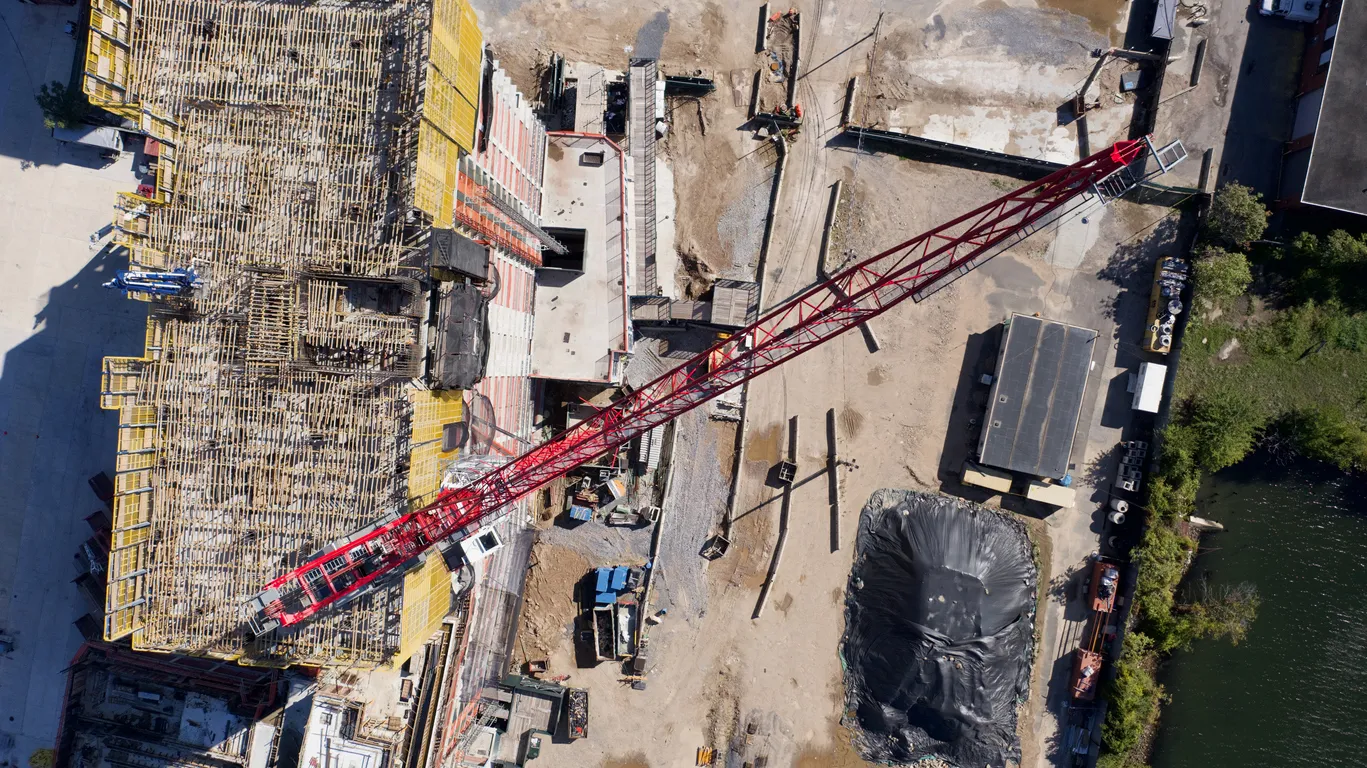 What kinds of injuries are common in crane accidents?
A crane injury can cause several typesof injuries depending on what happens, how the incident occurs, and the type of crane. The impact of falling objects, for example, can cause numerous injuries. Throughout our experience, our New York crane accident law firm has encountered clients with many types of injuries from crane accidents, including the following.
Traumatic brain injury (TBI)
Any time a person is struck in the head from an accident involving falling objects or flying debris, there is the possibility of suffering a traumatic brain injury (TBI). A TBI can create long-term cognitive function loss, causing a variety of types of impairment. Many times, TBIs carry life-long complications.
Spinal cord injury
A spinal cord injury can impact a person's ability to walk, move their legs and arms, and function as they are. This type of injury is common in situations where debris falls on a person or they are struck by it. Damage to the spinal cord may improve over time, but it often leads to permanent loss of mobility.
Electrocution
When a power line is struck due to the improper use of the crane, it can lead to numerous injuries and sudden death due to electrocution. This may include severe burns if a person survives. If so, they may suffer significant pain, disfigurement, and difficulty in recovery.
Wrongful death in crane accidents
When a person dies as a result of a crane accident, the situation is often very tragic. Wrongful death occurs when that person dies due to the negligence of another person or business. Any of the above types of accidents can cause death like this, and in every situation, you must know what your rights are as the immediate family owner.
Our goal is always to work closely with family members to pursue claims against those responsible. This may include costs related to any medical care a person received at the end of their life, along with final costs, including burial costs.
In addition to this, our legal team will work closely with immediate family members who were dependents to help them obtain compensation for the losses they are likely to experience, including the loss of companionship and financial support. Let us investigate what occurred, who is responsible, and what type of compensation you may be owed. Our New York crane accident attorneys have experience working on wrongful death claims.
Undocumented workers can recover financial damages, too
If you are an undocumented worker and you are involved in a crane accident, reach out to our New York crane accident lawyer for immediate help. Your right to compensation for the losses you have incurred is protected no matter your status in the U.S. Your immigration status does not play a role in your ability to obtain compensation in a personal injury lawsuit brought against your employer or others after a crane accident.
As with anyone else, you have the right to compensation for your damages. Set up a free consultation with our legal team. We protect your privacy.
What are some crane safety regulations in New York? What about nationally?
The Occupational Safety and Health Administration (OSHA) has numerous requirements in place to protect people who are using cranes and those who may be impacted by their failure. The following are some of the details to consider about these rules.
Pre-planning
Pre-planning for safe crane operation is critical to ensure the crane can be used in a given space, has enough room to move, and can be operated according to all requirements set for the crane. These laws and regulations govern the planning of where and how a crane may be used in any environment, from the busy streets of New York City to a rural area upstate.
Crane setup
Crane setup is not a simple process and involves establishing the foundation of the crane in such a way as to minimize any risk of damage to surrounding structures and people while also minimizing the risk of the crane toppling over.
Who's liable for my injury?
When a crane injury occurs, one of the first steps our law firm takes is trying to understand what went wrong. This can often point us to those who may be responsible for the injuries.
Company that owns and operates the crane
The company that owns and operates the crane is typically the primary at-fault party. This is especially true when they are negligent in the way they use the crane outside of the manufacturer or state/federal laws.
Crane operator
The crane operator who fails to use the crane according to the rules set by the owner is also responsible. They may be at fault if they are operating the crane improperly, not taking necessary safety measures, or otherwise putting people at risk.
Manufacturer
In some situations, the crane manufacturer could be responsible. This is true in situations where the manufacturer's equipment fails to work in the way expected.
Our New York crane accident lawyer is ready to help
Let our team go to work for you. Our New York crane accident lawyer provides free consultations to help you learn what your legal rights and obligations are. Contact The Weinstein Law Group now at (212) 741-3800 to learn how we can help you.
Related articles for further reading