Construction workers face challenging and dangerous working conditions. It's no wonder it's one of the top five industries with the
highest injury rates
. If you've been injured while on the job at a construction site, it's time to contact a New York construction accident lawyer. 
Construction accidents are often complex and difficult to navigate, which is where an experienced attorney can help. The Weinstein Group Law Group, PLLC has over
30 years of experience
in representing victims of New York construction accidents. 
Contact us today at 212-741-3800 to schedule your risk-free case evaluation.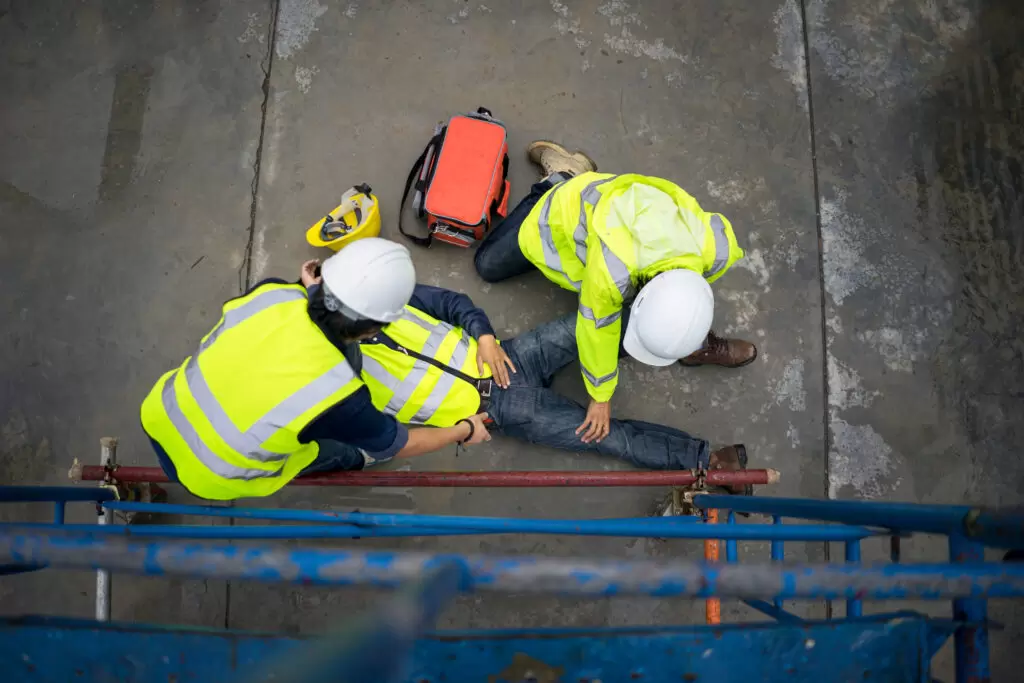 Why should I contact a construction accident lawyer?
Given the high amount of risk involved, construction sites are heavily monitored by state and federal safety regulations. However, despite the stringent standards that govern construction work, multiple parties involved often fail to protect their workers.  Construction site owners, equipment manufacturers, general contractors, and sub-contractors may all play a part in a construction accident. However, all of these parties will do whatever they can to reduce their liability when a worker is hurt. You don't have to navigate the complicated insurance claims process alone. Work with a skilled New York construction accident lawyer who can thoroughly investigate your accident, determine each party's liability, and guide you through the legal process. 
What are common causes of construction accidents?
Despite Occupational Safety and Health Administration (OSHA) requirements and inspections, three of the top ten most frequently cited safety violations in 2019 occurred on construction sites. Failure to comply with OSHA's safety regulations often results in construction site accidents that otherwise were preventable.  Some common causes of construction accidents include: 
Falls from elevators

Falls from ladders

Scaffolding accidents

Getting struck by falling objects or debris

Inadequate training

Improper use of tools

Electrical accidents

Slip and falls 

Collapsed structures 

Crane accidents

Equipment malfunctions

Fires

Exposure to toxic materials 

Compressed gases

Welding accidents
When safety regulations are ignored, the risk of one of these accidents increases dramatically. 
How to Receive Financial Compensation for a Construction Accident
The laws around construction worker injuries are complicated, but they lean in favor of the worker. When you're injured on the job, New York gives you two different ways to get the compensation you need to pay for medical bills and lost wages: filing for workers' compensation or filing a personal injury lawsuit.  For many construction workers, this is the only way to provide for their families after an accident. If you are a construction worker injured on the job, contact us today.
Workers' Compensation vs Personal Injury Lawsuits
You do not have to sue your employer to receive financial compensation. In fact, under New York law you can't sue your employer. Instead, there are two legal options for you: a workers' compensation claim or a lawsuit against a negligent third party.  In most cases, the smartest move is to pursue both. Receiving workers' comp doesn't disqualify you from pursuing a lawsuit. 
Filing for Workers' Compensation for a Construction Accident
Workers' comp is a form of insurance that your employer is required to carry. It protects both you and your employer. Here's what you need to know about workers' comp:
You can receive compensation for both your medical costs and a portion of your lost wages.

You don't have to prove your employer did anything "wrong." Workers' comp pays out whether there was a safety violation or not.

Employers will not generally challenge a workers' compensation claim. 

Workers' comp does not endanger your job. In fact, workers' comp protects your employer from liability.

All injured workers are eligible for workers' comp.
Our first move in your case is to make sure you have a claim filed for workers' compensation. This helps protect you whether you have grounds for a lawsuit or not.
Filing a Lawsuit for a Construction Accident Injury
Construction accidents generally don't happen unless a safety rule is broken. It can be anything from not being given a stable, safe ladder to being issued scaffold harnesses that have frayed ropes. It can also mean pushing employees to work too fast or under strenuous, unsafe conditions.  When a work accident involves a violation like this, your injuries are a direct result of someone else's negligence. This is when a lawsuit is appropriate. Pursuing a lawsuit is important for three reasons:
Workers' compensation does not pay out anything for pain and suffering. You can only get this form of compensation from a personal injury lawsuit.

Workers' comp rarely pays out 100% of all of your costs, especially missed wages. A lawsuit allows you to get the full amount you need.

The construction industry is New York's most dangerous industry. If construction companies aren't held liable for injuries, they will not improve safety conditions for future workers. 
A lawsuit like this is never aimed at your employer, but rather a third party that played a part in the events leading up to the accident. 
Who can be held liable for a construction accident?
While employers are exempt from personal injury lawsuits for construction accident injuries, it's still possible to file a lawsuit against a third party under New York Labor Law Section 200. These can include:
Construction site owners

General contractors

Sub-contractors 

Prime contractors

Equipment manufacturers, retailers, or wholesalers

Architects 
What should you do if you're injured on a construction job?
If you are injured on the job, see a doctor immediately. In serious situations, you'll be rushed to the emergency room. Even if your injury doesn't seem serious, it is highly recommended you go see a doctor. Some seemingly minor injuries can become severe enough to end your career if left untreated. Many construction sites will have their own doctor to send you to; sometimes they're even on site. They often don't have the diagnostic tools to make a full assessment. They will take a statement from you while you are still in pain and before you know the severity of your injury. That statement is for the insurance company to use against you. Similarly, some insurers will offer to send a nurse along to your doctor appointments to "coordinate care." That nurse's incentive is to reduce the number of expensive treatments you're approved for since the insurance company has to pay for them. Go to a doctor you know you can trust. If the nature of your injury is urgent, go to the emergency room right away. The insurance company can wait to get a statement until you have a lawyer at your side.
What damages can a New York construction accident lawyer help me recover?
The consequences of a construction accident aren't limited solely to the resulting injury. The injury can lead to severe emotional, physical, and financial consequences for the construction worker and their family.  It's difficult to estimate what sort of impact a construction accident will have on you and your loved ones. For this reason, filing a personal injury lawsuit against a negligent third party may be your best option to recover as many damages as possible.  Your construction accident attorney can help you recover damages for:
Pain and suffering

Loss of wages 

Reduction of future earning capacity 

Physical therapy

Recovery expenses 

Therapy or counseling treatment 

Loss of consortium for loved ones left behind
Statute of Limitations for Construction Accidents
Once you're injured on the job, the clock is ticking. You have a tight deadline to file your case. These deadlines are variable and can be very confusing:
If you're working for a municipal entity, you have as little as 90 days to file a notice of claim.

If you're working for a private entity, you have up to three years to file a lawsuit but should give notice much sooner.

Workers' comp must be filed within two years, but notice should be given much sooner.
If you wait to file a notice of a lawsuit, even if you're within the three-year deadline, you may not get any money. The insurance company will attempt to "disclaim" it because of the amount of time that has passed. For this reason, it's crucial that you contact a construction accident lawyer as soon as possible to give you the best chance of recovering your rightful compensation. 
Contact a Leading New York Construction Accident Lawyer Today
The bottom line is that any time you're injured on a construction job, you need to look out for yourself and your family. The Weinstein Group, PLLC has represented injured workers for 30 years from all industries, including: 
Iron workers

Carpenters

Mason tenders

Tin knockers

Steamfitters

Sandhogs

Laborers

Shop stewards
The Weinstein Group, PLLC prides itself on the respectful and open communication we maintain with all of our clients. When you hire us as your New York construction accident lawyer, you'll gain legal representation that prioritizes you and your family. Our lawyers aren't afraid to take aggressive legal action against negligent parties.  Take a look at what makes us different to get a sense of how we operate.  When you call The Weinstein Law Group, PLLC, you don't pay a dime unless we win. It doesn't matter how long we worked on your case. If you don't receive financial compensation, we don't charge you a single cent. Don't pass up the money that you deserve. Call The Weinstein Law Group, PLLC today, and we'll give you a 100% free case consultation. We'll answer your questions and suggest the next step for you to take, whether you hire us or not. 
Call us at 212-741-3800 or fill out our online case form and schedule your free consultation today.