More than 19 million people call New York home. About 8.4 million of those New Yorkers live in New York City, which contains one of the country's most walkable metro areas.
Throughout the state, about 300 pedestrians are killed by vehicles each year. Roughly 15,000 pedestrians are injured in New York pedestrian/car accidents annually.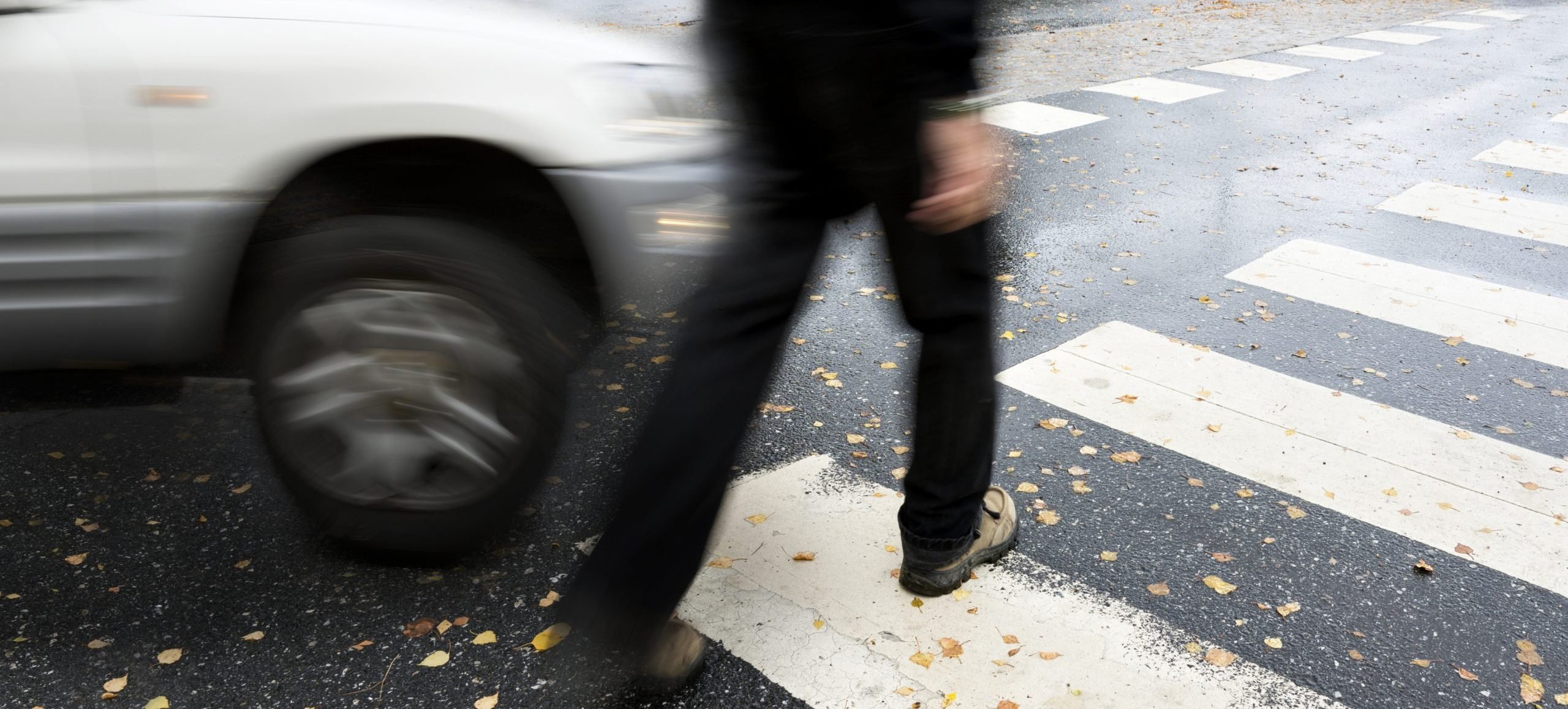 Unfortunately, the likelihood of a pedestrian accident is on the rise. Federal data states that pedestrian deaths in urban areas have increased by 62% over the past 11 years.
The Weinstein Law Group, PLLC helps pedestrians who have been hit by vehicles hold at-fault drivers accountable. Let our pedestrian accident lawyers help you get the care and compensation you need.
What is a pedestrian accident?
A pedestrian accident is any crash between a motor vehicle and a pedestrian, which New York defines as any person commuting by foot or wheelchair. 
There are other types of nonoccupants, such as bicyclists and skateboarders, but we're focusing on pedestrian knockdowns right now. If you experienced an accident on a bicycle, please contact our New York bicycle accident attorneys today. 
Motor vehicles include any sort of motorized transport, including motorcycles and school buses. More than 1,000 pedestrians were hit by the latter in 2018; 22 of those pedestrians, some as young as five years old, were fatally injured. In 2017, traffic accidents killed one pedestrian every 88 minutes.
When a car crashes into a pedestrian, it's obvious that the unarmored person is going to suffer severe injuries. Pedestrian injuries may include concussions, broken bones, internal bleeding, organ damage, and disfigurement. 
Common types of pedestrian accident cases
A hurried worker backs out of their driveway without paying full attention to their surroundings and collides with pedestrians traversing a sidewalk.

A parent on their way to pick up their children receives a text and looks away from the road for a split second to see what's going on; they crash into a pedestrian in the middle of a crosswalk.

A driver attempting to make a right-hand turn at a red light keeps their eyes on traffic approaching from the left. They see an opening and gun their engine to match the speed of neighboring cars. They hit a pedestrian who had the right-of-way to cross.
When it comes to pedestrian/auto accidents, there are as many types of cases as there are causes.
Common causes of pedestrian accidents
Multiple common causes can contribute to one pedestrian accident, but even a single factor can lead to disaster. 
1. Distracted driving
Causes of distracted driving vary widely from drivers checking their phones to those fiddling with their radio settings. Regardless of what pulls the driver's eyes away from the road, distracted driving is one of the main causes of pedestrian accidents. 
New York law states that pedestrians have the right-of-way in crosswalks and at intersections. They also have the right-of-way when traveling on sidewalks, yet are still hit while crossing driveways or similar sidewalk interruptions.
2. Intoxicated driving
The National Highway Traffic Safety Administration reports that more than a third of fatal pedestrian/car accidents in 2018 involved alcohol use. 
A 2018 report released last year states that more than 6,000 pedestrians ages 14 and older were killed in alcohol-related crashes in 2018. That number doesn't include pedestrians killed in hit-and-run accidents. 
3. Speeding
Speeding is a common form of aggressive driving. It sharply increases the severity of crashes and injuries. In addition, speeding lessens the amount of time drivers have to react to perceived dangers while increasing how long it takes a driver to stop their vehicle.
4. Low visibility
It's a sad and dangerous fact that not all crosswalks are adequately visible to drivers.
Some crosswalks are partially or fully obscured by landscaping, buildings, or signs. 
Driving at certain times of day, such as sunrise and sunset, may lead drivers to lose visibility when the sun glares through their windshield; drivers squinting through sudden sun blindness are far less likely to notice someone crossing the road.
In addition, night driving and inclement weather conditions such as rain or fog also lower crosswalk visibility, making a pedestrian accident that much more likely.
What should I do if I've been in a pedestrian accident?
Before anything else, your first priority after a pedestrian accident is yourself. 
1. Check for injury
If necessary, contact emergency services for immediate medical care. If you don't believe you are suffering from severe injuries, receive medical treatment as soon as possible anyway. 
Though you may believe yourself to have escaped a dire injury, it's possible that your lack of intense pain is due to shock. Adrenaline blunts your ability to correctly ascertain the severity of the physical injury. 
Getting a thorough exam regardless of whether you believe you are injured may prevent you from worsening any unknown injuries.
If you were hit while crossing the road, consider moving to a sidewalk, if safe and possible to do so. Moving out of the roadway may prevent additional injuries by passing drivers.
Take down the driver's license plate, car make, and car model, if possible. Do not do anything that risks your health. Your life and safety are of the utmost importance.
2. Report the accident to local authorities
In addition to alerting emergency medical services, calling 911 will summon police officers to investigate the scene of the crash. 
The officers will create an official record of the pedestrian accident, which can act as evidence in your pedestrian accident lawsuit. The report will also include information necessary to make an insurance claim. 
3. Contact a New York pedestrian accident lawyer
Once you are out of immediate danger, contact an attorney. Though you still may be reeling from the accident and its aftermath, New York law limits how long you have to file an insurance or personal injury claim.
Working with a New York pedestrian accident lawyer will relieve some of the stress that arrives during an accident and stays long after you've left the hospital. As you likely don't have much experience with getting hit by cars, it's best to work with an experienced New York pedestrian accident lawyer who knows what to do.
What if the driver left the scene of the crash before authorities arrived?
In the case of a hit-and-run accident, you may be able to receive compensation through an uninsured motorist policy, if you have one.

As the lack of another identifiable party changes the entire situation, it's best to consult with a New York pedestrian accident lawyer about your options.
How can a New York pedestrian accident lawyer help me?
If you've been hit by a motor vehicle as a pedestrian, you are bound to be dealing with mounting medical bills, ongoing treatment, and loss of income. 
The accident also may have destroyed whatever items you had on you at the time, such as your cell phone or laptop.
A lawyer knows your options
Under the NYS Insurance Law, New York drivers are required to have no-fault insurance as part of their automobile policy. The no-fault insurance portion of the policy is responsible to pay for the injured person's medical care and any lost wages up to 80%.
No-fault insurance claims must meet certain standards, such as being filed within 30 days of the crash. Failing to file a no-fault insurance claim within the required timeframe will invalidate the claim.
The State Department of Financial Services states that no-fault insurance helps to pay for medical bills and lost income. It does not cover economic damages exceeding the $50,000 limit and does not include any compensation for non-economic damages. 
If your medical treatment costs exceed $50,000 or you would like to be compensated for the pain and suffering from a severe injury from the accident, you'll need to contact a New York pedestrian accident lawyer to file a civil claim. 
If the driver was found to be under the influence of drugs or alcohol, that could invalidate the no-fault claim, which would force you to pursue legal action to recover damages.
A lawyer will help you understand litigation tactics and developments
If you proceed with a civil lawsuit, you now have to worry about the driver's insurance company. They will investigate the crash and try to pin at least some of the blame on you; doing so could lessen the amount the insurance company may have to pay. 
In addition, there are certain situations where the driver may not be totally at fault in a car/pedestrian accident. These circumstances include when pedestrians jaywalk or travel in areas that prohibit foot traffic and can affect your total compensation.
How to pick a New York pedestrian accident lawyer
Searching for a lawyer while juggling medical appointments, medication, insurance investigators, and other responsibilities is mentally, physically, and emotionally exhausting. Rightfully focusing on your recovery and health above all else means that you can't give this search as much attention as it needs.
Here are the three most important factors when it comes to selecting who will fight for you.
1. Experience
You must work with a seasoned lawyer who will fight for you. An experienced lawyer will provide your case with additional protection, as they will know how to handle sudden complications and case difficulties. Collectively, our firm has more than a half-century of experience fighting for people in need. 
These years of experience didn't just hone our lawyers' skills, they allowed our firm to develop an extensive network of experts, both medical and investigative, who will help strengthen your case.
2. Empathy
Our lawyers want what's best for you. We comb through every case detail to make sure that your case is as strong as possible. 
Additionally, we care about you. Though a common phrase in the courtroom, citizens often forget that your New York pedestrian accident lawyer is also your "counselor." And we go above and beyond to live up to the responsibilities granted by that title. 
As your law firm of choice, we are in your corner. We are there to guide you when litigation feels overwhelming and provide feedback on any settlement offers. 
Working with The Weinstein Law Group, PLLC means working with someone who cares.
3. Results
You must work with a seasoned New York pedestrian accident lawyer who knows how to navigate the nuances of pedestrian accident law and get their clients the justice they deserve. 
With decades of hard-won experience under our belts, we know how to get the results our clients need. We've won millions of dollars in personal injury case settlements; That's notable because most personal injury cases end up settling before reaching trial.
Our guarantee to you
You will be heard and will not pay anything unless we win your case. We understand that you're coming to us out of necessity. You are in a vulnerable position and need to be treated with respect, empathy, and dignity. 
There's an assumption that lawyers are out for themselves. At The Weinstein Law Group, PLLC, we strive to prove that stereotype wrong with our actions. We will do everything in our power to fight for you and make you feel heard. We have your back.
Have you been injured in a New York pedestrian accident? Let us help.
If you or someone you love has been injured in a car/pedestrian accident, you must contact a lawyer right away. Per New York state law, personal injury claims often can be filed within three years of the accident, though there are exceptions. 
The sooner you contact us, the sooner we can begin gathering evidence such as statements from witnesses that will lose color, detail, and reliability as time passes. 
Our New York pedestrian accident lawyers will work with you to develop concrete timelines of the accident and your treatment to ensure that potential jurors understand just how much this crash cost you and yours. 
In addition, we work with medical experts and artists to create easy-to-understand illustrations of your injuries so that jurors do not have to wade through jargon before making a determination.
Contact The Weinstein Law Group, PLLC today for a free pedestrian accident case consultation.