Construction workers may suffer serious injuries after slipping and falling and could even be rendered permanently disabled and unable to work.
If this happened to you, contact The Weinstein Law Group today at (212) 741-3800 for a free consultation with a New York construction site slip and fall lawyer. Your New York construction accident lawyer can advise you of your options, including collecting Workers' Compensation benefits and filing a lawsuit for damages.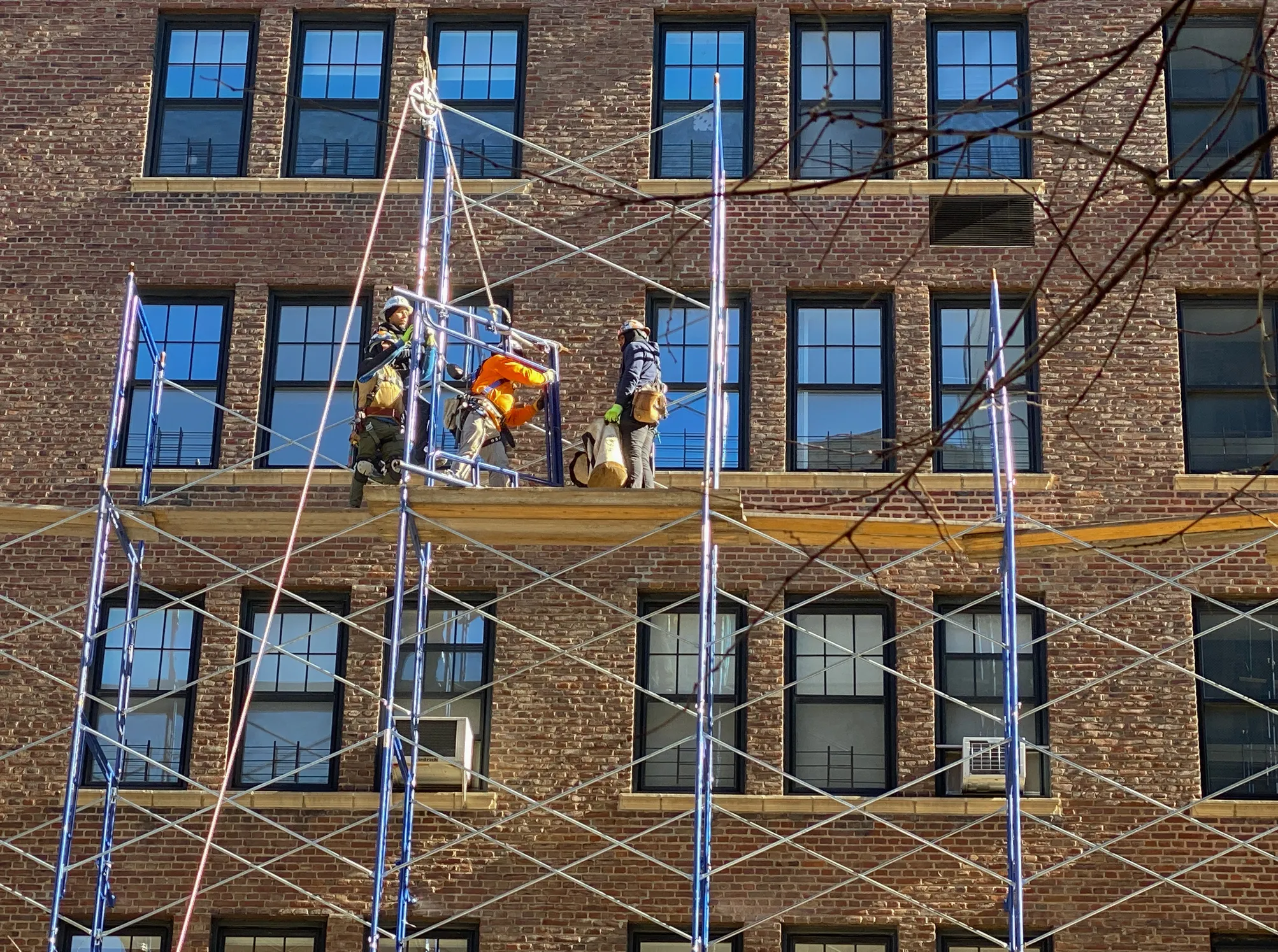 How much does it cost to hire a construction site slip-and-fall lawyer in New York?
The attorneys at The Weinstein Law Group work on a contingency fee basis. We only assess legal fees if we win your case as a percentage of your final settlement or award. Your lawyer will explain the fee structure at your initial free case review.
We believe every injured worker should have access to quality legal representation, so we take care of the legal costs upfront. You can focus on healing and recovery and trust that your case is in our experienced hands.
Common causes of construction site slip-and-fall accidents in New York City
Construction sites may have multiple surfaces, from poured concrete to dirt, wood, or a mix. Many also have an uneven terrain, like mud or dirt. This, coupled with the presence of construction debris and materials, makes a slip or trip and fall much more likely than walking on a flat, carpeted office floor.
Even on a job site with uneven terrain, there are multiple steps that a site owner or contractor can take to ensure their team's safety. A slip and fall can occur anywhere, but some situations are more perilous than others.
NY General Construction Law § 23 establishes specific safety regulations for construction employers, including the right kind of safety gear to provide, standards for keeping the work environment safe, and other specific considerations for construction jobs, like proper techniques and procedures for excavation, demolition, and use of explosives.
Scaffolding violations
If a worker trips over something on a scaffold or slips on spilled liquid, they can fall multiple stories, often suffering severe injury and permanent disability. OSHA requires job sites to have proper scaffolding harnesses for workers and protective measures in place to prevent people walking below from being struck by falling objects.
Or, perhaps someone walking near a scaffold slips or trips and falls, colliding with the scaffolding and falling. They could bring the scaffolding down on top of themselves, causing harm to anyone working above them. Or, even if the scaffolding doesn't fall, falling objects could still injure the worker below.
New York State Labor Law § 240/241, or the "Scaffold Law," imposes serious liability on construction site owners and contractors for injuries caused to construction site employees, subcontractors, or other site visitors for any injuries they suffer. The law holds contractors, site owners, or other responsible parties financially liable for any injuries caused by unsafe working conditions.
Lack of personal protection equipment (PPE)
The most important piece of personal protective equipment (PPE) that a construction worker can wear to prevent slips or trips and falls is a study, well-fitting pair of work boots. New York Construction Law Section 23 requires workers to wear the right footwear, usually steel-toed work boots.
To best protect yourself from slips or trips, make sure the work boots fit the foot (not too big or small) and stay tied. Even tripping over an untied bootlace could spell disaster. Soles should be non-skid, with deep treads to ensure sure footing.
Helmets and hard hats
Helmets and hard hats are a second vital piece of PPE and are also mandatory under NY Construction Law Section 23. Head injuries are very common in falls, whether it's falling off the scaffolding or slipping, falling, and landing on hard ground. Hard hats and helmets offer a great deal of protection, but like work boots, they are most effective when properly fitted and worn correctly.
Safety glasses or goggles
Safety glasses or goggles are required when working in certain roles, like drilling, sandblasting, or working with concrete. You may not think good eye protection can prevent falls, but if you get something in your eyes, you can't see well enough to avoid a slippery area or a small dip or hole in the ground.
Missing guardrails
Guardrails on scaffolding, stairs, and around large excavation holes are vital to prevent accidents. Placing the right barriers around dangerous areas is the site owner's or contractor's responsibility. A lack of protective guardrails or barriers could turn a mild accident into a life-threatening situation.
Spills and workplace violations
New York Construction Law, Section 23, requires construction employers to keep walkways and work areas free of spills and slick areas. How this works in practice is that the site foreman or other supervisor should regularly check the entire work area, making sure that any spill is immediately cleaned up or cordoned off (such as placing wet floor signs or other indications).
Slipping and falling in a puddle of water, wet concrete, or spilled paint can cause serious injuries, including broken wrists or tailbones and head injuries.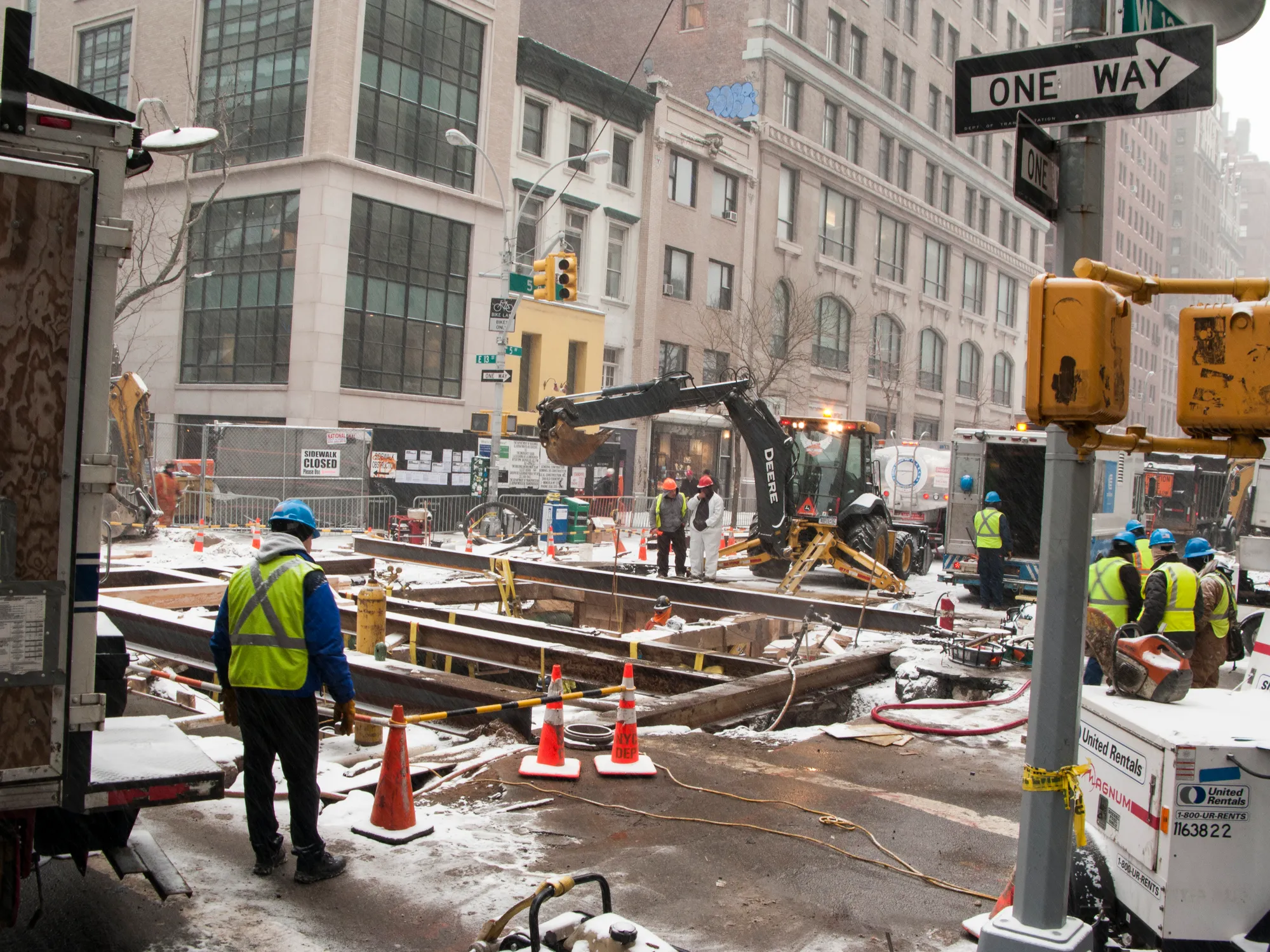 Who is liable in a construction site slip-and-fall accident?
Determining liability in a construction site fall accident is the crux of any personal injury lawsuit. f you were hurt because a third party was negligent, for example, then you may file a suit against that party. If your injury was truly just a mishap, then you could claim workers' compensation benefits but will probably not have grounds to file a lawsuit.
Some examples of situations in which a worker may be able to file a lawsuit against a negligent party include:
Willful gross negligence on the part of a worker. For example, if someone on the job site is goofing around and deliberately being unsafe with equipment, didn't clean up a spill right away, or showed up to work drunk or high, then they could be liable for any injury they caused due to their gross negligence.
A subcontractor didn't place guardrails around an excavation site or failed to follow proper cleanliness and safety protocols, leaving a spill instead of cleaning it up.
A vendor delivering materials dropped some on the ground, leaving a trip hazard for other workers.
Can I sue my MYC construction employer for a slip-and-fall accident?
Only in some very narrow circumstances. One of the purposes of New York Workers' Compensation benefits is to protect employers from being sued by injured workers. If your slip and fall accident happened under one of these conditions, you should contact a lawyer and see if your case qualifies for a lawsuit:
Gross negligence. If the employer is wantonly, knowingly negligent, they could be sued. For example, if you repeatedly tell your site foreman or contractor that the scaffolding is unstable and dangerous and they fail to replace it, then they could be liable.
Assault. This may be quite rare, but if your employer assaults you, you can file a lawsuit.
Failure to carry workers' comp insurance. Nearly all NYC construction companies are required by law to carry workers' comp insurance. If your employer doesn't have it, then you can file a suit.
How can a slip-and-fall lawyer help me?
Navigating the New York civil justice system and the Workers' Comp system can be confusing for many people. A New York construction site slip and fall lawyer can offer insight and guidance, providing valuable information to make the right decisions for you and your family.
Here are just a few of the ways we can help.
File your workers' comp claim and ensure you get the benefits you deserve
Your employer may deny the claim or its insurance company may minimize your benefits. You have the right to file an appeal, which your attorney can help with.
Investigate the cause of the accident and identify the responsible party
If your accident was caused by unsafe working conditions created by a subcontractor or other third party, then your attorney can gather the evidence necessary to provide their liability.
Build a case for compensation
A lawyer with deep knowledge of New York construction laws can identify when a contractor, subcontractor, vendor, or other party violates them, creating unsafe working conditions.
Negotiate a fair settlement on your behalf
Most construction site accident suits are settled out of court, in meditation, or in other types of negotiations. The other party will probably have an attorney and insurance company representing their interests, ready to lowball your settlement offer or counter every part of your settlement proposal.
New York construction accident lawyers are trained negotiators. They keep a cool head when arguing for a higher settlement on your behalf and advise you on whether you could expect a better outcome for the case.
Represent you in court
If you filed a third-party lawsuit and weren't able to settle out of court, then the case progresses to trial in a New York civil court. Your lawyer presents your case, cross-examines witnesses, and leads you through your testimony.
Appeal a denied workers' comp claim
If your employer or their insurance company denies your workers' comp claim, you have the right to file an appeal. But, you typically only get one chance, so any mistake in the filing or a missed deadline could cause your claim to be dismissed. Your lawyer can draft and argue your appeal before the NYC Workers' Compensation Board.
The weeks after a devastating construction slip and fall accident can be painful and stressful for accident victims. Your lawyer offers guidance based on your situation, answers your questions, and is a source of valuable support.
Hurt in a slip-and-fall on a New York construction site? We can help.
If you're injured after slipping or tripping and falling at your New York construction job, you may be eligible for compensation from the party that caused your accident in addition to your workers' comp benefits. A New York construction site slip-and-fall lawyer from The Weinstein Law Group can help you get it. We offer free initial consultations with a lawyer, and you can schedule yours by calling (212) 741-3800.