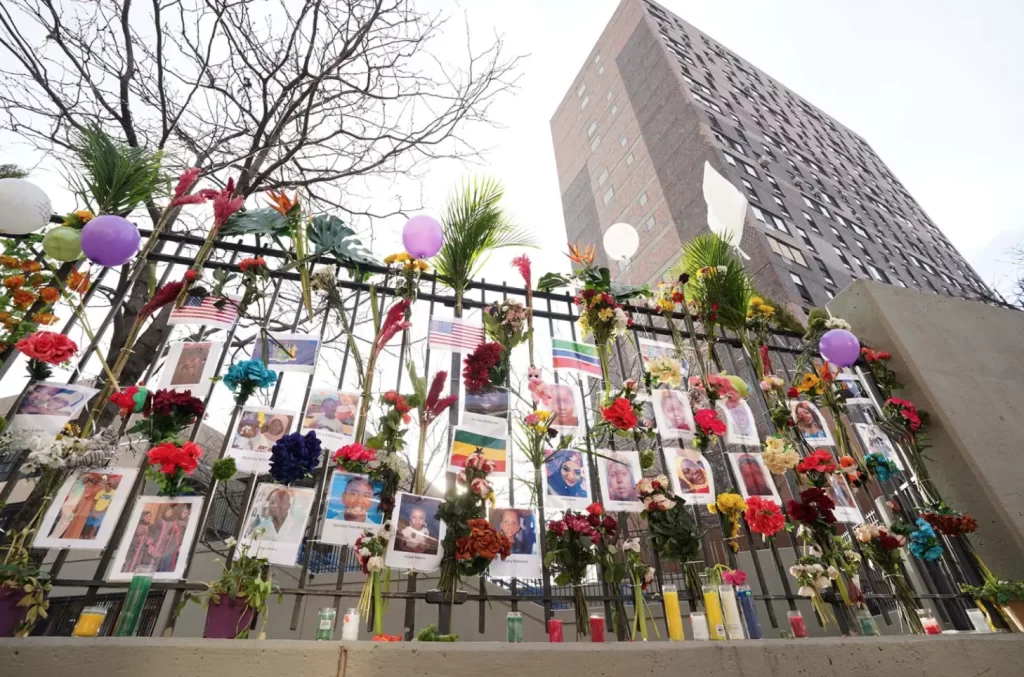 On January 9, 2022, nineteen people, including nine children were killed in what officials are calling the deadliest fire New York City has seen in over three decades.
The fire was caused by a malfunctioning space heater, which sent smoke billowing through the brick high-rise. It claimed victims on each floor and injured 44 people, 13 of whom suffered critical injuries. 
New York City fire commissioner Daniel A. Nigro said that deadly smoke spread to other floors after the occupants of the third-floor apartment where the fire began fled without shutting the door.
But the occupants of the apartment where the fire began are not at fault in this case. The heinous act at the center of this tragedy is negligence – negligence on the part of the landlords and property owners.
Families File Suit
Families of those who died in the January fire have since filed suit against the building owners, alleging violations of city safety laws caused the injuries and deaths.
According to the lawsuit, the building owners were aware or should reasonably have been aware of the risk for fire. According to the New York Post, the Department of Housing Preservation and Development busted the building six times in recent years for failing to maintain the tower's self-closing doors.
New York City fire code requires apartment doors to be spring-loaded so they slam shut automatically. Because the door on the third floor where the fire started failed to close, smoke was able to travel up through the stairwell shaft, which city officials believe prevented residents from escaping.
The lawsuit, first filed by lead plaintiffs Rosa Reyes and Felix Martinez, seeks $1 billion in damages in addition to a class-action claim of $2 billion in punitive damages for victims. 
Defendants include the current property owner – LIHC Investment Group, Belveron Partners, and Camber Property Group – as well as the former owner, Cammeby's International Group.
The deaths resulting from the January 9th fire were a tragic blow to the immediate community and the country. Property owner and landlord negligence are inexcusable. If you or a loved one were injured in an apartment building and you believe negligence may have played a role in the accident, call Weinstein Law Group today.
Our New York apartment fire lawyers will work to hold the negligent party accountable and get you the compensation you need. Call (212) 741-3800 now.
Fires Caused by Negligence
Property owners must provide reasonable protection against fires. Specific laws dictate what is and what is not considered "reasonable." 
When a property owner or landlord fails to meet these requirements, and their failure leads to a fire which causes injury or death, they can be held liable for negligence.
The following actions are considered negligent under New York premises liability law:
Failing to install and/or maintain fire alarms.

Failing to install and/or maintain sprinkler systems.

Failing to clearly mark fire exits.

Failing to keep fire exits clear of objects and debris.

Failing to address fire concerns, such as faulty electrical wiring or broken HVAC systems (overdue maintenance of HVAC systems often pushes people to buy space heaters).
Virtually all apartment fires are preventable. Unfortunately, negligence on the part of the property owner or landlord can turn a safe home into a deadly blaze that claims lives. 
If you or a loved one were injured in a building fire, or if you're worried one may result from your landlord's negligence, call The Weinstein Law Group, PLLC immediately.
We'll hold the negligent party accountable and help you recover from the injury that should never have happened. Call (212) 741-3800 now.